History of St. Petersburg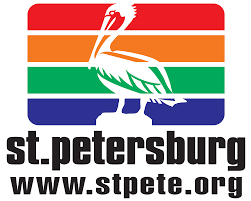 In 1875 John Constantine Williams of Detroit, Michigan moved to Tampa and bought 2,500 acres of warm waterfront land that would eventually become St. Petersburg. Thirteen years later, he transferred part of that land to Peter Demens, an exiled Russian aristocrat. In exchange, Demens extended the Orange Belt Railroad to Williams's settlement. The first train arrived in St. Petersburg in 1888, carrying empty freight cars and a single passenger.
Legend says that Williams and Demens flipped a coin to see who would name the city. Demens won the coin toss and named it after Saint Petersburg, Russia. Williams named the city's first hotel after his birthplace, Detroit. In 1903, with a population of only a few hundred people, St. Petersburg incorporated as a city.
The city has a walking tours link for a few different areas. This link has a map of the neighborhoods, and below a short summary of the largest ones. St. Petersburg has so many nooks and crannies. It's neighborhoods are unique and perfectly suited for every style.
Waterway Estates, Patrician Point and Ponderosa Shores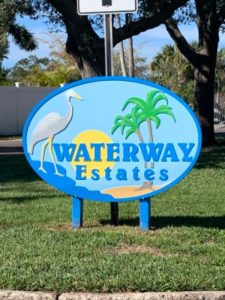 Located in the Shore Acres area in NE St. Pete, most of Waterway sits on beautiful canals. Patrician Point runs south and north of 40th Avenue, then Waterway Estates is just north of it, and Ponderosa Shores next to that. All three communities enjoy Florida waterfront living and the majority of these streets are cul de sacs, so great for families. Most homes were built in the late 1960's-1970's.
Venetian Isles
Venetian Isles is a tranquil deed-restricted community with waterfront homes built on man-made islands connected by a series of bridges. ​Venetian Isles is coveted for its beautifully manicured landscaping, water views, friendly community and close proximity to downtown St. Petersburg. This highly sought-after neighborhood is a favorite for boaters due to its deep-water canals designed for both sailboat and power boat access. Development of homes did not start until 1968 due to construction and financial problems encountered by the various developers of Venetian Isles.  Sibley Homes completed development of the remaining lots in the early 1970's.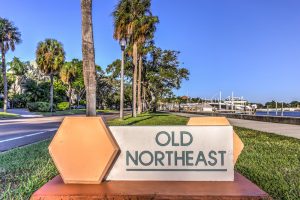 Old Northeast
Old Northeast is one of the most well known Historic neighborhoods in the area and for good reason. This area really has it all. It's a gorgeous neighborhood with brick lined streets, white picket fences, mature trees, a close proximity to our amazing Downtown area, an active neighborhood association that regularly puts on events and even a neighborhood tavern and coffeeshop for locals to spend time at. You will find some of the largest and most extravagant homes from the 1920's time period in this area.
Old Southeast
This area is close enough to downtown but still far enough away to maintain a peaceful and serene atmosphere. Living here you will mostly only see local traffic driving through and maybe the occasional folks that are on their way to enjoy the beautiful 14 acre waterfront park, Lassing Park, in Old Southeast that overlooks Tampa Bay. Old Southeast is it's own neighborhood however there are two other smaller neighborhoods that are usually lumped in with The Greater Old Southeast Area. These neighborhoods are Driftwood & Tropical Shores.
What I like about this area is it's close to Downtown St. Pete, but still more affordable than Old Northeast. There's also potential to buy homes in this area with legal rental units. Whether it's a home with a guest house, a duplex, triplex or quadplex, this area is a great place to own a home with rental potential.
It's close to Downtown and also close to University of South Florida St. Pete so the demand for rentals will always be strong.
Northeast Park Shores
Located south of 40th Avenue North and east of 1st Street North, North East Park Shores offers residents a suburban feel with nearby parks. A walking/biking trail runs along 1st Street and the beautiful waterfront is just a 1/2 mile walk. A plaza featuring a Publix is in walking distance. Some homes are on the water, but most are not. A boat ramp is part of Crisp Park.
Shore Acres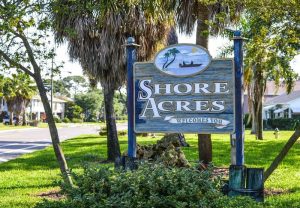 If you are a fan of waterfront living then Shore Acres may be the right neighborhood for you. Shore Acres is a tropical waterfront community, in northeast St. Petersburg, only minutes from downtown and easy access to Tampa offering waterfront luxury homes on the bay and on canals that lead out to open water. This beautiful island offers something for everyone.
The Shore Acres neighborhood is historic, walkable, densely populated and features waterfront living with homes on the ocean, a bay, or inlet. As a result, the neighborhood has a very nautical feel, and some seaside and shipping feel. Boating and fishing enthusiasts love this waterfront community for expansive network of canals, and nearby nature preserve on the northwest corner of the island. The neighborhood includes a fire station on the island which serves Shore Acres as well as its tony neighbors on Snell Isle and Venetian Isles. Shore Acres has its own small shopping area with a food market, as well as two churches.
Harbor Isle
The Harbor Isle Neighborhood consists of 220 single family homes and is located in Northeast St Petersburg between Mangrove Bay Golf Course and Weedon Island.  This waterfront community has a large interior lake and is bordered to the north and east by Bayou Grande.  These waterways are perfect for boating, canoeing, fishing etc. Harbor Isle Subdivision was platted in the 1970's.  Many of the homes were built by Rutenberg, Sibley and Bruce/Williams.  Prior to this development, the land was connected to Weedon Island via a bridge which was used as a thoroughfare between St Petersburg and the Gandy area.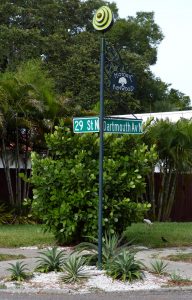 Kenwood
Kenwood has a vibe of it's own. This neighborhood is currently one of the most desirable areas to live in St. Pete for a number of reasons. Kenwood is also less than a mile from Downtown St. Pete and walking distance to The Grand Central District. Both of these areas are great places to go to experience restaurants, bars, breweries, art galleries and all sorts of events. There is always something going on. This neighborhood is famous for it's dense concentration of 1920's Craftsman style bungalows. Kenwood actually has the highest concentration of Craftsman bungalows in the entire state of Florida. Kenwood runs north and south of 5th Avenue north between US 19 and I-275.
Roser Park
The minute you drive into Historic Roser Park you will realize that it's one of a kind. If you haven't noticed, about 99% of Florida is extremely flat. Even when it's at a slight incline it still feels flat around here. There is virtually no terrain in St. Pete, until you stumble upon Roser Park. It seems out of place with its hills, but it's a beauty. Located directly south of Bayfront Medical Center, you'll find the rest of the neighborhood filled with narrow brick lined roads. These roads feel like a maze at times – they twist and turn, get narrower and wider and can only be navigated at about 5 miles per hour.  The streets are about a century old and extremely uneven in parts. It's close to downtown, without the price tag of Old Northeast.
Uptown
This neighborhood is only a few blocks west of Old Northeast but you'll notice the prices are drastically different. Historic Uptown still has plenty of houses that are dilapidated and can be scooped up and renovated which will help neighborhood values appreciate in the long term. This neighborhood is around the St. Anthony's Hospital area and east toward 4th Street.